Written by JLCwrites, Posted in Artist Notes, At Home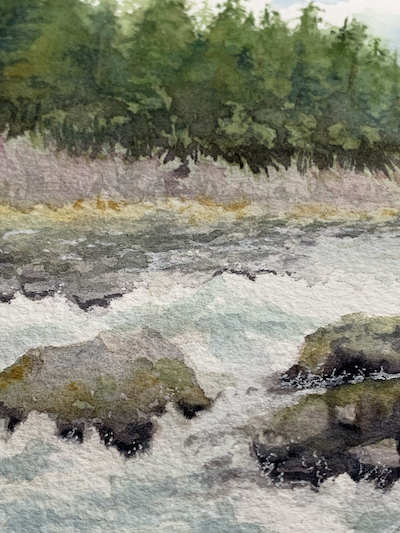 First off, I'd like to wish everyone a Happy Easter or a Happy Passover. I hope this day finds you in good spirits and in a celebratory mood despite our current social distancing laws. I happen to be lucky enough to live in a community building neighborhood that loves to do whatever they can to create comeradere between neighbors. The neighborhood has two Facebook groups. One for buying, trading, and selling personal items, and one for everyday announcements. Lately the latter one is being used to generate fun ways to occupy ourselves and children, and to problem solve issues due to social distancing. As a result, we have found many fun ways to keep the kiddos occupied, the parents sane, and the empty nesters connected. This ranges from chalky words of encouragement or exercise goals written on the sidewalks, to scavenger hunts built around finding stuffed animals and pictures in windows for the kiddos to discover and check off their lists as they walk by. There are even little hand-made 'fairies' along walking paths in the nearby forested areas. If children have birthdays, the neighbors will honk their horns or sing 'Happy Birthday' as they pass by that child's house. Today there is a planned "Easter egg hunt" for the younger children. Residents have placed Easter eggs in their windows so families with little ones can walk by and spot them during their 'egg hunt'. I write about these activities not to brag, but to share positive news and ideas. I feel it is important to focus on the good. To adapt to change as much as possible, and to keep it all in perspective.
At this point, I was going to write a paragraph on current events and human behavior but it became a very long and philosophical tangent, so here is the jest of it. "It requires more bravery and strength to trust our fellow humans, than it does to be critical, hide, or hold a weapon." 🙂
On to art! I have been very busy building an art routine. My day starts out with feeding and walking the Schnauzer for a mile, having breakfast, and then sitting in the office at my desk and painting. My husband shares the space with me and spends his working day making design decisions for engineering software programs and having lots of Zoom meetings about those decisions. So, I keep my headphones on and listen to podcasts, YouTube art channels, or relaxing music. Sometimes I put the headphones on and forget to play anything before I start painting. So they just sit there… silently keeping my ears warm.
After art, I exercise, then have lunch, then spend the afternoon doing house jobs, managing teens, and avoiding all the snacks… sort of. Sometimes I take the teens outside for a longer walk, especially if I've been eating snacks. In the evening, I make dinner, we play a family game together, and then the hubby and I hang out and watch the latest binge show while the teens turn into phone or gaming zombies. (You needed to know all this, right?)
So art takes up the morning. I am a morning person. I prefer watching the sun rise over watching it set. I have more energy in the morning and by 3pm I am ready for a nap. It is just the way I work. Since art is a priority in my life (After kids and hubby) I give it my undivided attention during my most energized time of the day. And lately art has been frustrating me. I am trying to make my brush strokes looser and my paintings more stylized and I end up overworking details and muddying my colors. I follow plenty of abstract artists and envy their works. They have trusted their instincts and pushed the boundaries while I am still needling 'realistic' details which results in a realistic subject, but one that lacks any emotion, expression, or personality. Never fear, I am not quitting. I've written up some exercises for me to work on that will hopefully give me the results I want. Tim Wilmot (You can find his painting videos on You Tube under his name) has some good suggestions on how to keep your paintings loose.
Start off with a rough sketch
Simplify the scene you are painting
Hold the brush at its end
Stand or sit at a distance from your painting
Give yourself a time limit
So I will be doing a variety of exercises that include these tips and hopefully trust my instincts more and study my reference less.
How are things coming along with your creative projects? Do you have an Achilles heel when it comes to your artistic goals?
Happy Creating!