Written by JLCwrites, Posted in Artwork, At Home, Month Reviews and Goals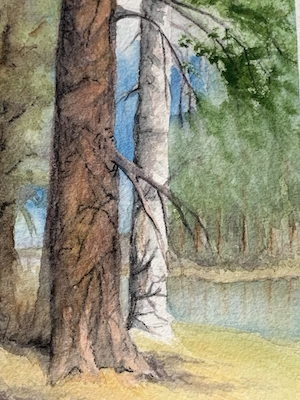 Books – "True Grit" by Charles Portis, "Leviathan Wakes" by James S.A.Corey
TV Binge – "Zero Zero Zero" Amazon, "Scrubs" Hulu, "House" Amazon
Spotify Playlist – "Pumped Pop". (Trying to stay in touch with today's music)
I've been pretty remiss in making regular posts on this site. Alas, I have no excuse beyond forgetfulness and lack of love for online technology. For example, it took me 20 minutes just to run all the site updates and to look up passwords to reconnect accounts to this site. I find the constant password requirements and my ability to forget them or type them incorrectly (even when using a password storage app) to be one of the few banes of my existence. Perhaps a sign of my age? Maybe. I'd like to think it is a genetic curse passed down from my father who also has issues with passwords and account log-ins. Maybe our fat fingertips are always hitting the wrong key. If everything could move to 'face recognition' I'd really appreciate it!
Anyway, "old lady" tech rant aside, hopefully you are aware that there is a virus going around and that we are (for the most part) social distancing. If not, welcome back from your six month vacation in Mars and just Google 'news' where there is a plethora of information about our current global predicament. My heart goes out to all those who are losing jobs, those who are losing loved ones to this virus and to those who are braving the virus every day to keep the rest of us fed and in contact with medical needs. (Distance hugs for all of you!) Life here in the JLC house is chugging along. As with most parents, I am now switching gears and implementing educational time for my two teens. We are also avoiding the stores unless it is absolutely necessary. For exercise, we are using a rowing machine, YouTube fitness videos, and we take daily walks with our dog, Zoey. Our backyard has no fence and backs up to a forest that results in occasional visits from coyotes, skunks, and raccoons so we need to walk our dog around 3 times each day. Like many of you, we miss interacting with our friends, and my teens really miss their extracurricular activities in music, sports, and theater. But, we are not complaining. In fact, we are trying to make the best of it by playing family games, talking a little longer at the dinner table, and giving ourselves a daily purpose or goal to accomplish. Hopefully this virus will have run its course soon, and we will have learned the importance of appropriate hand washing, food handling, and other germ control actions.
What about ART? Yes, the painting output has increased now that I am not spending extra time being a "free Lyft driver for teens". We did manage to squeeze in a spring break to central Oregon before the state shut things down. I took plenty of reference photos and have been using those for my latest watercolor paintings. (Follow me on @drawntojlc on Instagram) This week I decided to whip out my Windsor and Newton and M. Graham gouache tubes, so there will be some paintings posted on Instagram using gouache. I forgot how easy it is to paint without needing to worry about leaving the white areas alone. The beauty about gouache is that I can always paint white on top of a darker color. I also want to try departing from realistic painting and going for more of a stylized look. Some examples of other artists who are inspiring me to do this… @yonghong.zhong.9 @ullathynell @victoriaprischedko @darbyroseart @jessfranksart and @blusmithgallery – If you get a chance, be sure to check them out. I have also been experimenting with a variety of watercolor paper (All cotton) and will be making a post on here with my reviews soon. Yes, I said soon! I will try to be more vigilant about posting on here in the future!
In the meantime, I wish you and your loved ones a safe and healthy stay-at-home experience while we all overcome this virus.
Happy Creating